Easy Chocolate Pudding makes for a quick sweet treat or an elegant dessert! Make your favorite creamy childhood snack from scratch ! Full of rich chocolate flavor, and is best served with some whipped cream on top, this homemade version will be a family favorite.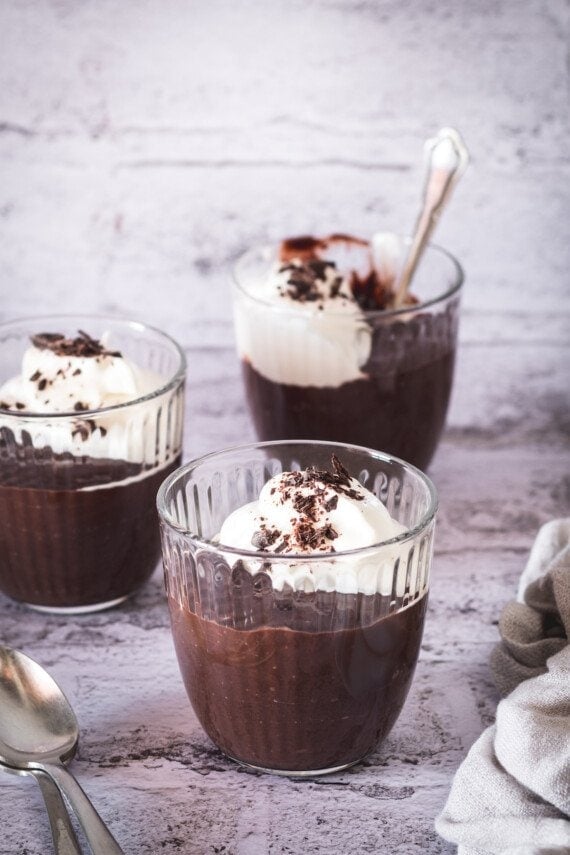 Easy Homemade Chocolate Pudding
My kids LOVE chocolate pudding. Me? Not so much. I love a good chocolate mousse, a Pot de Créme, or heck, even a pudding pop. But, actual pudding is usually a solid pass for me. So, I let my kids take the lead with this recipe. They helped me make it, taste test it, and they gave the final stamp of approval, too.
What started as humoring their favorite snack, though, ended with me "cleaning" the edges of the sauce pan. With a spoon. Hey, adults can taste test too – don't let your kids tell you any different!
Getting back to the point, this sweet chocolate pudding recipe is crazy simple, and crazy delicious. It's the perfect texture (thick-but-not-too-dense), and it's sweet without being overly sugary. Plus, you most likely have everything you need in your kitchen to make it right now.
Easy, creamy chocolate pudding is great for after-school snacks, last-minute dessert emergencies (yes, those are a thing!), chocolate cravings… you get the gist.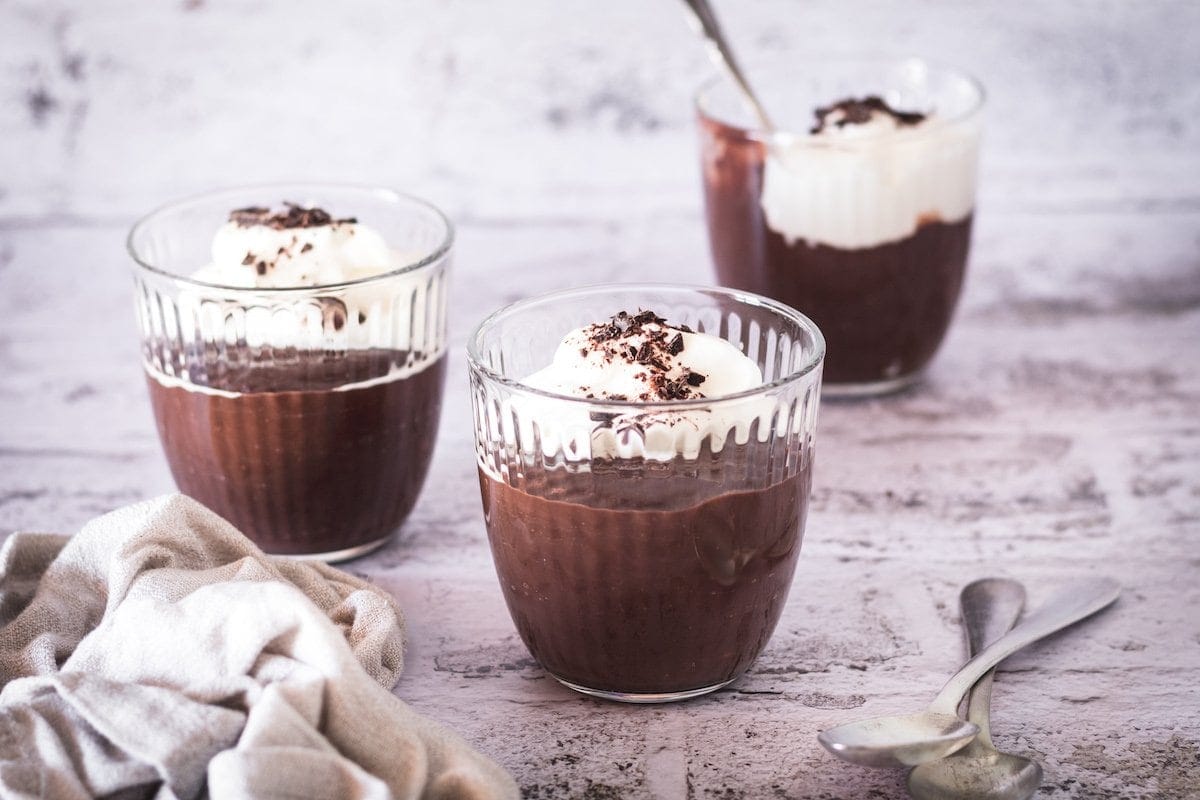 Why Make Pudding From Scratch?
Once you dip a spoon in your bowl, you'll see why. But in addition to that, don't you feel so accomplished when you make your own treats? There's just something about preparing – from scratch – a recipe you might typically lean on a box mix for.
Here are a few more reasons why I like to make homemade pudding:
It's Super Easy: There are lots of versions of chocolate pudding out there in the universe. Some start with chopped chocolate, some have heavy cream, etc. But the beauty of this recipe is the simplicity of the ingredients. There is minimal effort required in mixing sugar, cocoa powder, cornstarch, and a couple of other essentials together.
It's Quick: 10 minute dessert, anybody? That's right. 10 MINUTES. Why are you still reading this when you could be halfway done making this pudding recipe? Kidding, kidding, we've got a little more to cover first.
It's Customizable: If you like your pudding plain, that's fine. However, if you've got a huge sweet tooth like me, you'll add whipped cream or crushed Oreos or Kit Kat bars to your pudding. (Technically you could do this with store-bought pudding too, but it tastes better when you make it yourself, because you know what's in it!)
What You'll Need
What goes into a batch of homemade chocolate pudding? There are 7 necessary ingredients. Let's get exact, though – here are the specifics of what you'll need to round up:
Sugar: Stick to granulated sugar for this pudding recipe.
Unsweetened Cocoa Powder: You could technically use chopped chocolate for the chocolate flavoring, but using cocoa powder is just so darn easy.
Cornstarch: This will thicken up the pudding for you.
Salt: I like to use Kosher salt – it enhances the sweet chocolate flavor.
Milk: Whole milk makes for the creamiest pudding, as does half and half, but whatever milk you've got in your fridge is just fine.
Vanilla: For extra sweet flavor!
Butter: This adds extra creamy goodness to your pudding. Make sure it's room temperature before starting.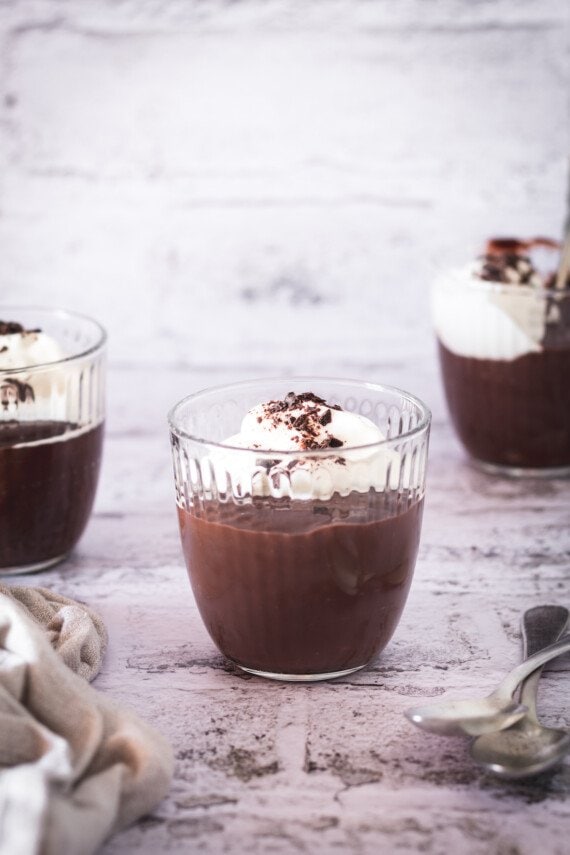 How to Make Chocolate Pudding
Let's recap for a second. This creamy chocolate pudding takes 10 minutes to make, it's a total fan favorite, and it will instantaneously cure your chocolate cravings. Who could say no?
Here are the quick steps you'll need to take to mix it together:
Combine Ingredients: In a medium saucepan, whisk together the sugar, cocoa powder, cornstarch, and salt. Over medium heat, slowly add the milk, whisking constantly.