My Blueberry Crisp recipe is one that you will make time and time again. Juicy blueberries, topped with buttery, crisp topping is the ultimate summer dessert!
Make sure to try my Berry Crisp and my Blueberry Cobbler recipes too!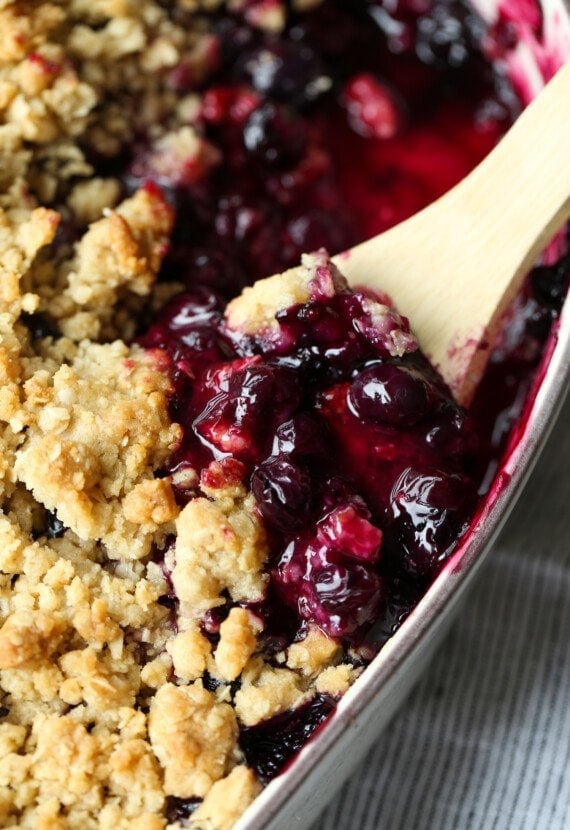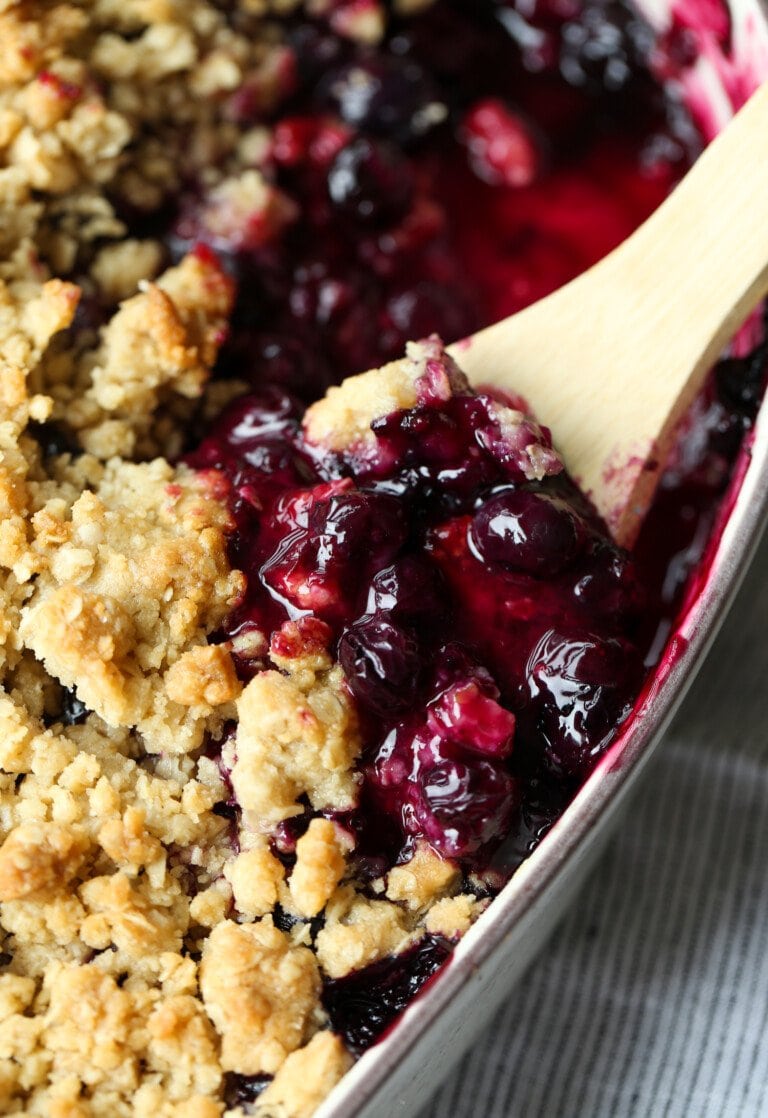 This Homemade Blueberry Crisp Is Absolutely Delicious!
If there was ever a summer dessert that really made you feel like SUMMER, this Blueberry Crisp is THE recipe. You have sweet, juicy blueberries, topped with a crisp, buttery, streusel-style topping that bakes until the blueberries are bursting and the topping is golden brown. Go the extra mile and serve it with a big scoop of vanilla ice cream and you will for sure be living your best summer life.
I love making this Blueberry Crisp when blueberries are in season. Here in New Jersey that means June is the big blueberry month and I try to buy enough to last me throughout the summer. I freeze them when they're perfectly ripe so I can make crisps, cobblers, smoothies, pancakes, muffins etc for months to come!
Here Are A few "On Repeat" Blueberry Recipes In My House: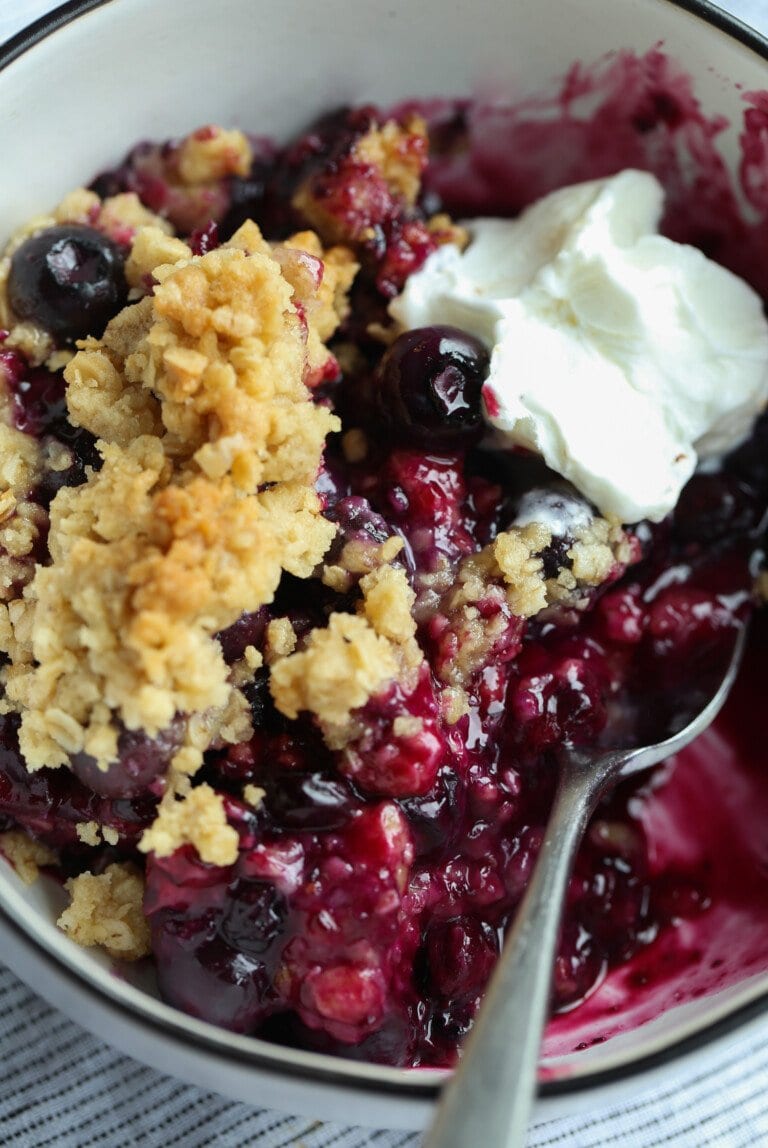 What Is The Difference Between A Crumble and a Crisp?
The question that I have asked google so many times when writing a crumb topped fruit recipe…what is the difference between a crisp and a crumble…and even a cobbler for that matter!?! Not that is matters so much what you call it…they're all super delicious, I just happen to prefer a crisp, because it holds it's crunch a little longer than the rest!
A Crisp is a buttery, dense topping that bakes up "crisp" and contains sugar, butter, flour, and oats!
A Crumble topping is very similar to a crisp but it generally doesn't contain oats.
A Cobbler is more of a biscuit-style topping that is softer and not as crisp.
What You'll Need:
Here is a quick breakdown of the ingredients you will need. The full measurements are in the printable recipe at the bottom of the post:
Crisp Ingredients:
Quick Oats. You can also use old fashioned, or "rolled" oats in this if you don't have Quick oats. The only difference is that quick oats are cut smaller to allow them to cook quicker. The crisp will have a slightly chewier texture with an old fashioned oat just due to the size, but they will work perfectly and the difference is only minimal.
Butter. I like to use salted butter, but you can use either unsalted or salted. The recipe is written using salted butter. Also I melt the butter in this recipe because I've found over the years it really makes no difference if you use cold butter in a crumb topping or melted. You prep the crisp topping first, so it has time to cool and thicken up so you can really clump it together.
Sugar. I use a combo of granulated and brown sugar in the crisp portion, because I like the slight richness the brown sugar adds combined with the granulated sugar. You could even use all brown sugar if you would like!
Salt. A little pinch of salt balances the flavor out!
Filling Ingredients:
Fresh Blueberries. You use a LOT of blueberries in this recipe, but it's so worth it! You can also use frozen blueberries if they aren't in season, just thaw them out, and pat them dry.
Granulated Sugar. You can play around with the amount of sugar the recipe calls for depending on how sweet your blueberries are. You can't omit it or cut back too much because it's an integral to the blueberry sauce that forms as it bakes.
Corn Starch. This helps thicken the filling. The blueberries and sugar create a decent amount of liquid as they bake, and the corn starch helps thicken it up!
Lemon Juice. The fresh juice of a lemon adds a little hint of brightness to the recipe, and I LOVE the pairing of blueberries and lemon. You can even zest the lemon as well if you want even more lemon flavor!